Main content starts here, tab to start navigating
About Us
Voted the Sandhills "Most Authentic Pub"
Hidden among the tall pines of Pinehurst is a storied authentic American Tavern - Drum & Quill
The "Drum" in our name represents famous golf writer Bob Drum - my father.
The "Quill" represents the golf writers' secret weapon - the pen.
The pen writes the words that turn stories into legends, like the pen Bob used to memorialize Arnold Palmer as they founded Golf's Pro Grand Slam in 1960.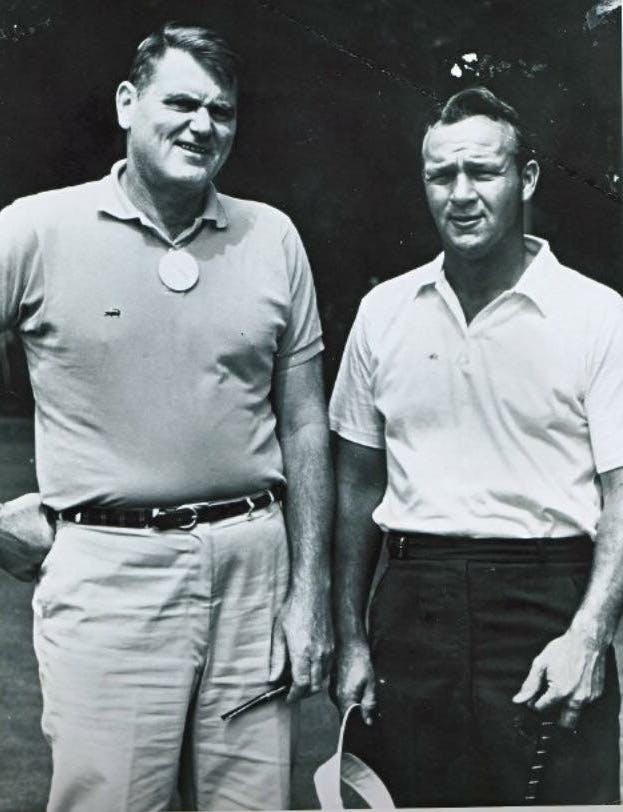 Bob wrote a series of stories in 1960 about how Arnold Palmer would win the top four majors and that, Bob declared, that would be the professional version of what Bobby Jones did - "Golf's Pro Grand Slam," and the rest is golf history!!
To this day, PGA Professionals pursue the legendary "Pro Grand Slam" created by golf legend Arnold Palmer and immortalized by our namesake – Bob Drum.
In honor of our family's namesake, Drum & Quill was built on the old Irish tradition of a Public House. A cozy place to gather, drink, eat, talk, debate, sing, laugh and tell stories. And maybe even make a new friend or two.
The bar at Drum & Quill is housed in a 130-year-old magistrate judge's chamber and boasts over 150 spirits (the largest in the area) and an extensive beer list to wet your whistle. Whether you enjoy classic cocktails, sipping on Irish Whiskey neat, or a pint or two, we got you covered.
Kevin Drum, Proprietor
Cead Mile Failte (a hundred thousand welcomes)